Tonight's special dinner party was hosted at the home
of Joe Menegos in Spring Valley, California.

Each year the fresh water Canadian Copper River Salmon migrate towards the Alaskan coastline, and each spring there is only a one month window of opportunity to capture the most flavorful dark red colored Salmon available. Tonight's menu is a special treat for you to enjoy, so that you might reflect upon the ice cold clean waters that flow from the Canadian mountains toward Alaska's outstanding wilderness sanctuaries. I hope that all of you will realize that the Salmon that comes from that very special river is the most exotic and fresh tasting Red Salmon in the world.
Zinger Appetizer
Baked French Brie in Puff Pastry with 5 spice Cranberry compote and gourmet crackers
Paired with Cranberry Cosmopolitans
Organic Harvest Salad
Assorted mixed wild greens, with marinated Roma tomatoes, Bleu cheese crumbles, Vidalia sweet Onion and Mustard seed Vinaigrette, with hand picked Organic edible Nasturtium Flowers.
Super fresh "Copper River" Red Salmon
Flown in fresh from Canada and marinated in fresh chopped Garlic, minced Ginger and infused Basil oil. Slowly broiled to perfection, and served with fresh Tangerine herb butter rosette.
Paired with Mer Soleil Chardonnay
Starches and Vegetables
Roasted Garlic Crowns, Rosemary and cream cheese Yukon Gold mashed potatoes
Steamed Garden Asparagus with Citron lemon zest Hollandaise Sauce
Poached white baby Pearl Onions finished with Saffron Brie glaze

Orgasmic Sweet Finish
Fresh picked Blackberries and Green Pistachios Flambé, accompanied by Vanilla Bean Ice Cream, Angel food Cake, Chambord Blackberry Chantilly cream, and warm chocolate sauce.
Paired with Starbucks French Roast Coffee and Zinfandel Port
Select Wines
2001 Mer Soleil Chardonnay Rutherford, Ca.
Stuart Cellars Zinfandel Vintage Port Temecula, Ca. 1998
MENU CONCEPT AND DESIGN BY GREGOART
COPYRIGHT GREGORY MICHAEL MANESS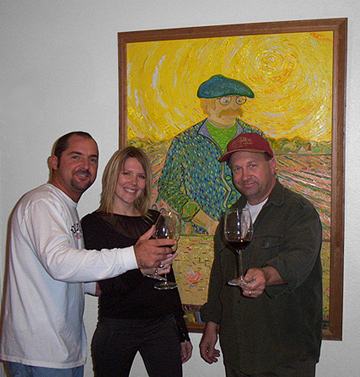 Grego with host Joe Menegos and Kristin England at the Copper River Salmon dinner party. Behind them is Grego's original full sized painting entitled "The Flower Bundler" purchased by collector Joe Menegos who also owns numerous GregoArt originals.